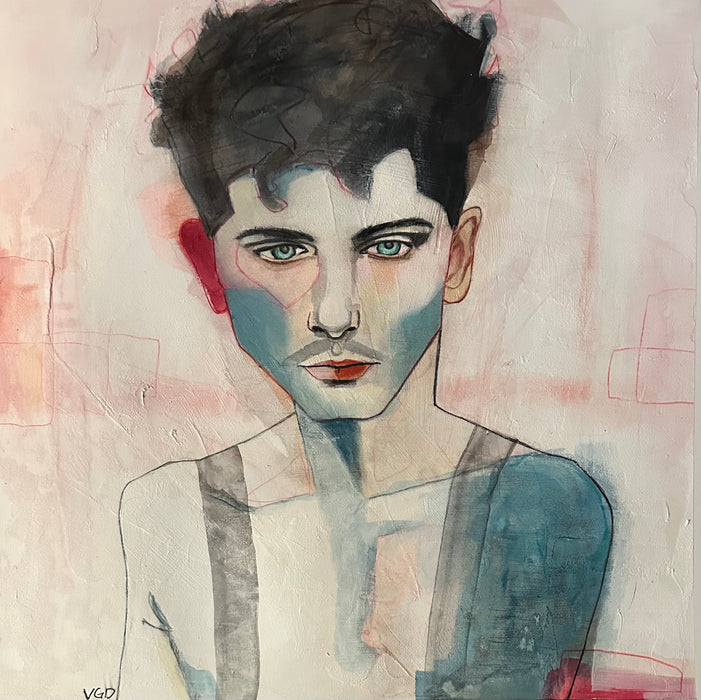 I see you
Save

Liquid error (snippets/product-badge line 32): Computation results in '-Infinity'

%
16" X 16"
Mixed media on panel
ARTIST STATEMENT
Boy
I operate from an emotional place.  I begin with an idea that becomes an urge to create.  I paint as an outlet for an overabundance of feelings.  As a child I drew and coloured to quell overwhelming sensations.  Now I paint to understand this absurd, beautiful world and my place in it. In this series, "Boy" I excavate the cabaret scene in the city of Berlin during the late 1920's and early 1930's just before Hitler took power.  In this time of social decay, there was a hedonistic subculture that willfully lived in the moment.  After reading a fictional book by Christopher Isherwood called "Goodbye to Berlin" I became captivated by the "Kit kat boys" of the club scene.  I am interested in how imagination and impression are processed into visual form.  I have loved a good story since I was a young girl enthralled by faerie tales.  Now its my practice to read a book and use my imagination to further that tale with paint.  There is no escaping how each of us brings our own lived experiences into how we "see" the world.  Those interwoven emotions and patterns that define our perceptions.  As a mother who is estranged from her own beloved son I found myself hyper-focussing on these young men and projecting all of the longing and ache of his absence onto them.  I identify with the coexisting factors of innocence and reckless abandon in these figures which I witnessed in my own boy.  This series of portraits is a cautionary tale of what we choose to see and what we choose to ignore - a struggle on repeat loop for our world.  I strive to suggest the transient nature of childhood and all of it's inherent vulnerabilities. But there's also an important element of celebration, an homage to the beauty of the boy.  There is a quiet energy to the work, a thoughtful introspective feeling that embodies the innocent side of coming of age.  Then there is that careless feeling of immortality that we have all felt in our youth - the mirth and the madness of being young.  I have found a visual rhythm with these boys.  We celebrate the women and the female form all the time in the arts.  I think its timely to provide a representation of the young man - through a female gaze. Unfolding this personal vision is a way for me to acknowledge our son and the many others who struggle with belonging.   It enables this idea of labour as a form of love.
My process always involves several layers, intuitive marks and colour fields to allow for a sense of depth in the finished work.  I then look for an entry point into the figurative image; often removing as much as I add to the substrate.  Though I may incorporate a horizon line, the imagery is usually surrounded by an abstract background.  The resulting effect is a floating figure without the context of a concrete setting.  By creating space around the form I attempt to lift any heaviness from the composition - and the heart.  
My work Identifies a continuous dialogue between figuration and abstraction.  In the thoughtful, deliberate construction of the drawing and the emotional energy of the brush stroke the paintings become a snapshot of a moment in time and enchant the viewer to imagine the story behind it. 
Ultimately my concerns, struggles and joys are similar to those around me so the hope is that I strike a chord with the viewer.  Some sense of discovery, recognition… or even discomfort.